In the fast-paced world of business, corporate events are pivotal moments for networking, learning, and showcasing your company to the industry. It is therefore crucial for companies to have a presence at some of these corporate events, be it by sending one representative for the company or an entire team of employees. Whether it's a conference, a trade show, a team-building retreat, or a product launch, these events play a pivotal role in fostering growth and success. However, attending corporate events involves a unique set of challenges when it comes to travel logistics.
In this blog, we will explore the intricacies of travelling to corporate events, offering insights and strategies to ensure your journey is as seamless as it can be.
What is corporate events travel?
Before embarking on planning a trip to a corporate event, it's essential to have a crystal-clear understanding of the event's purpose. Knowing this will help shape the travel arrangements accordingly, so you will need to consider factors such as budget, timing and any accessibility requirements your employees may have.
Efficient transportation logistics are the lifeblood of corporate events travel. Whether it's coordinating flights, arranging ground transportation, or organising chauffeur services, meticulous planning is essential. This is where a specialist business travel agency like uTravel comes in, helping you navigate the complexities of booking flights, managing schedules, and ensuring seamless transitions. The choice of accommodations can also significantly impact the comfort and satisfaction of your attendees, so strive to strike a balance between luxury and cost-effectiveness. Lastly, make sure that the chosen hotel or resort can accommodate your group's needs and provides convenient access to the event venue. At uTravel, we always work hard to ensure that the itinerary for your corporate events travel is well-structured for a stress-free experience.
Our planning tips
Effective travel to corporate events begins with careful planning, so trusting a specialist business travel agency will give you the peace of mind you need to know that all the details are being taken care of. Here are some of the steps you should follow when putting together a corporate travel plan:
Travel Arrangements
Start by booking your transportation. For international events, ensure you have the necessary travel documents such as passports and visas well in advance, as well as all the necessary travel essentials, including your event registration, and identification documents.
Accommodation
The choice of destination is a pivotal decision. Consider factors such as the distance from the event's location, any accessibility requirements your employees may have, and your budget for the stay. Selecting the right accommodation is essential for a comfortable and productive trip, so research and book your hotel well ahead of time to ensure it's conveniently located and it offers adequate amenities to meet your needs.
Event Registration
Registering for the corporate event itself is a crucial step. Many events offer early-bird discounts, so it's a good idea to sign up as soon as possible. Check for any additional requirements, such as specific attire or equipment you may need to bring.
Networking and Engagement
Corporate events are prime opportunities for networking and engagement. Prioritise your attendance at workshops, seminars, and networking sessions to maximise the value of your trip. Pro tip: prepare your elevator pitch and conversation starters to make meaningful connections.
Staying Informed
Stay informed about any changes or updates related to the corporate event, including schedules, speakers, and event logistics. Having up-to-date information will help you make the most of your time at the event.
Corporate Events Travel With uTravel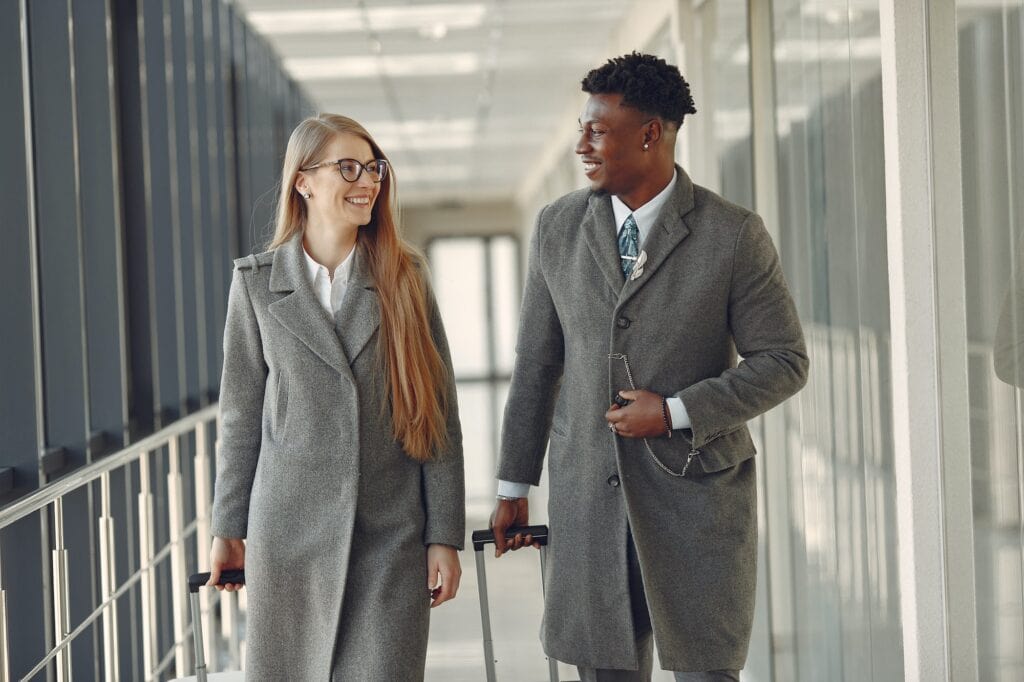 Travelling to corporate events can be a rewarding experience when approached with careful planning and attention to detail. By strategically preparing for your journey, selecting the right destination, and arranging travel logistics, you can make the most of your experience.
Corporate events can be great places for landing deals, but not always the best places for landing some R&R. With large numbers of people descending on one place at any given time, securing the best tickets and the right accommodation can be stressful. With uTravel close at hand, you can stay one step ahead, all while saving your time and money. Put us in charge of your individual or block bookings and you can rest assured that our expertise will land you the best seats available and the most sought-after rooms in town.
Corporate events travel requires meticulous planning, attention to detail, and a commitment to delivering an unforgettable experience for attendees. By understanding the event's purpose, choosing the right destination, and managing all transportation logistics, you can orchestrate a corporate event trip that leaves a lasting impact on all who attend. Remember, successful corporate events travel is a journey in itself, one that can lead your business to new horizons of success and connection.
Corporate events offer a valuable platform for growth, learning, and networking, and with the right approach to travel, you can ensure your trip is a seamless and productive one. Call one of our agents today and let us take the headache out of your corporate event travel.