The world has changed a lot over the past couple of years, with the COVID-19 pandemic reshaping how we work, connect, and, most importantly, how we travel. The shift has been particularly impactful for businesses, some of which have had to reinvent themselves to adapt to the changing world. In this guide, we will explore how corporate travel in particular has changed, offering you our tips, insights and strategies for corporate travel in a post-pandemic world.
Travelling in a post-pandemic world
During the pandemic, adaptability became a recurring topic, and this forever changed the way businesses have to conduct their activities. As the world is now able to finally start travelling again, companies have had to learn how to be flexible in their approach to travel policies and procedures, accommodating the changing landscape of restrictions, health guidelines, and employee preferences. The health and safety of employees remains paramount, even after the pandemic, as companies try their utmost to stay up-to-date with the latest health advisories and protocols, ensuring that staff can travel with confidence. This may include providing personal protective equipment, enforcing social distancing measures, and encouraging vaccination. Adaptability and a commitment to health and safety are key components of successful corporate travel in this new era. By reevaluating travel policies, businesses can navigate the challenges and opportunities that lie ahead in the world of corporate travel.
In a post-pandemic world, companies have also had to revisit and adjust their travel policies to align with the new normal. Considerations such as the necessity of travel, remote work alternatives, and budget constraints should all be factored into updated policies, balancing business needs with employee wellbeing. As travel is essential for some companies, ensuring that this aspect of the business is also up to standard is crucial. The post-pandemic travel landscape is dynamic and ever-evolving, so regularly monitoring global conditions and adjusting travel plans is crucial. This is where specialist corporate travel agencies like uTravel come in, taking care of all the planning to strike the perfect balance between business objectives and the well-being of your employees.
Though disruptions are now occurring far less often than they were during the pandemic, leaving the corporate travel planning to a specialist agency will provide real-time information to travellers and ensure that your employees get support in the event of delays or cancellations. Clear communication and transparency are vital during these uncertain times, as a well-informed and supported workforce is more likely to navigate travel challenges successfully.
Why Choose uTravel For Your Corporate Travel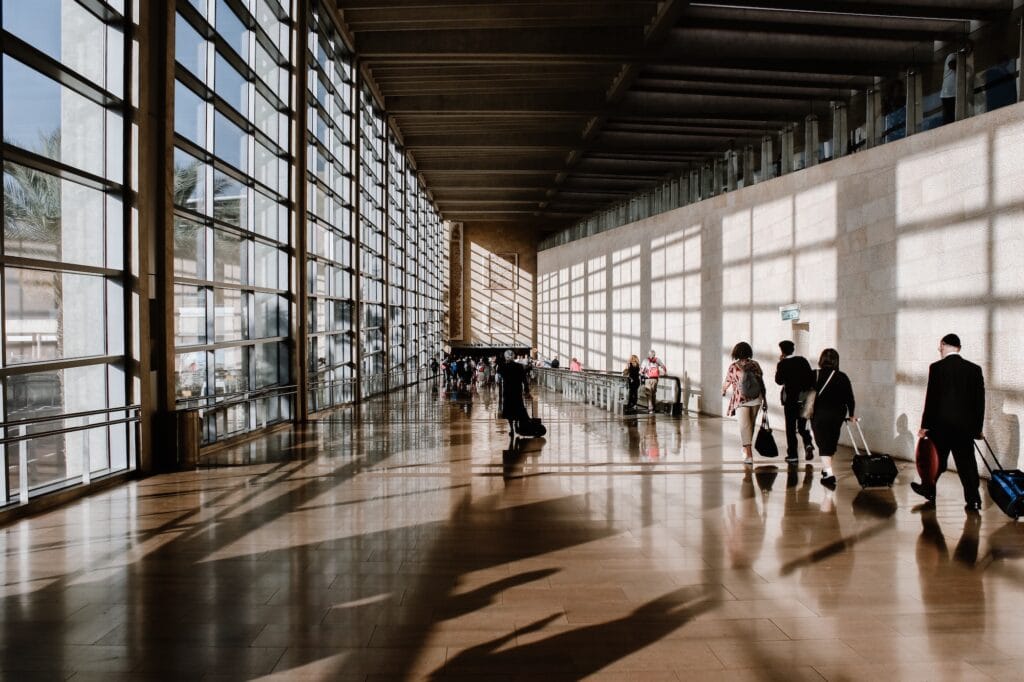 At uTravel, we understand that a successful business trip demands stress-free and comfortable travel. Now more than ever, following the COVID-19 pandemic, we are committed to creating a travel experience that is safe and stress-free for your employees. Whether you need help planning complex itineraries or securing the best routes and accommodations, we can focus on your corporate travel arrangements so you can focus on your objectives.
Every business professional knows that there's more to business travel than just booking tickets and accommodation. For your trip to go well, you need to arrive refreshed and ready so you can remain at the top of your game throughout. And, as the travel regulations differ from one country to another – especially after the COVID-19 pandemic – it's our job to do all the research for you.

As mentioned, adaptability and communication are key aspects of business travel. Our team of travel experts have the experience and know-how to anticipate, plan and implement your business trip professionally – according to your personal and corporate needs. With uTravel, you can forget the distraction of business travel management, as your dedicated account team will handle everything from start to finish. And, should any unforeseen circumstances arise during your employees' travels, the account team will be on hand to provide alternative routes and accommodations to keep plans on track.

Whether you're a frequent sole flyer or in charge of block corporate bookings, uTravel is your reliable, trustworthy and professional corporate travel partner. From helping perfect your business travel policies to taking care of the admin, we've got your trip covered!